Your pets are your four-legged children of sorts, and you want to take care of them the best you can. All pets enjoy staring at the outside world through the windows or just napping on a window sill in the warm sunshine. Window treatments can be dangerous to pets if they get tangled in dangling cords. Fortunately, there are many safe options on the market today in modern window treatments, such as pet friendly blinds. Read on to find out how you can keep your pet safe with pet friendly window treatments.
Making Your Home a Safe Space for Your Pets
It's important that your pets have all the toys, beds, and items they need to play with and be safe while doing so. Some pets, especially younger dogs and cats, can quickly get into mischief by chewing on items they shouldn't. Pet proofing your home includes choosing pet-friendly window treatments without traditional cords that your furry friends can chew on or get entangled in.
Window Coverings For Homes with Pets
You can choose from many window coverings that are safe for your pets and children. Choose a cordless design for window coverage without pull cords that can cause a choking hazard for your four-legged family members. 
Pet friendly blinds are a good choice for your home if you have pets. Real wooden blinds or faux wood blinds are beautiful and made of long-lasting materials, and they can stand up to some abuse if your dog decides to taste them. With pet friendly blinds, you can enjoy the benefits of window treatments while keeping your curious pets safe, as these blinds eliminate the risk of entanglement or choking hazards.
Aluminum blinds are definitely a good choice for a pet home. Choose either of these two in a cordless design to keep your pets safe.
Roller shades also work well in a cordless fashion, and you have literally thousands of choices of fabric from which to choose, with solid colors, patterns, prints, and themes to match your home's interior design scheme. Another great benefit to this window treatment is that they are effortless to clean with just the swipe of a feather duster to keep them looking pristine and new and remove any pet fur or dander.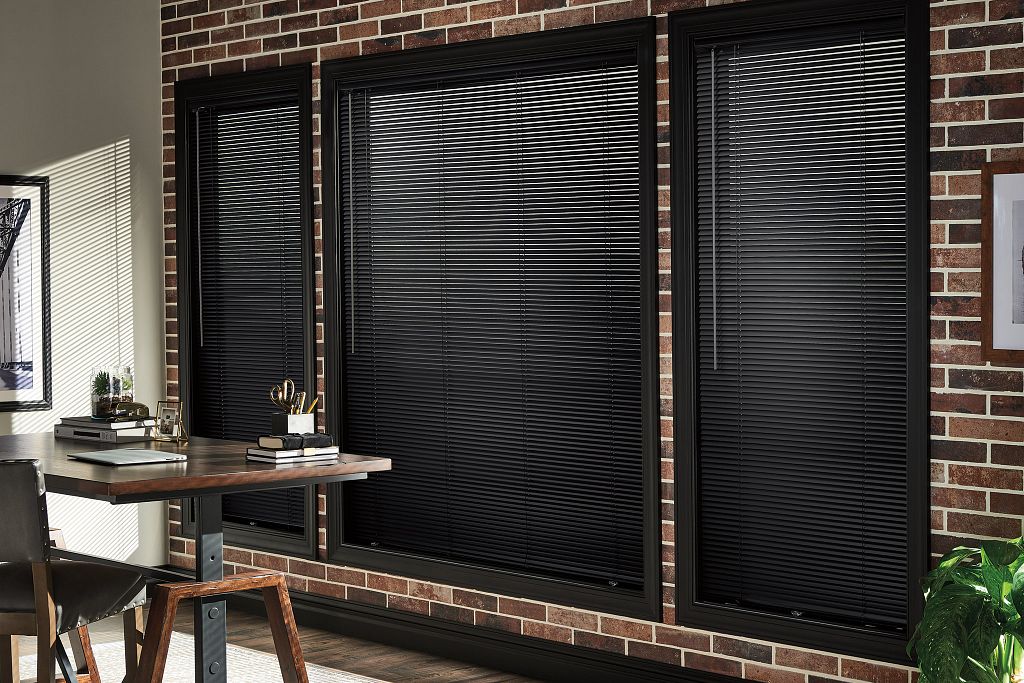 Roman shades also give you a huge number of options for the fabric you want them to be made of when customized. There are also many different styles, all of which give your home an instant upgrade and a luxurious feel.
Vertical blinds are another option for pet safe window coverings. Cordless blinds are made of fabric or vinyl and come in many beautiful colors to match your decor. Being vertical means that dog or cat hair won't float in the air and land on them as it does with horizontal blinds, so the upkeep is minimal in a pet lover's home.
Mini blinds are also a good pet-conscious choice. The vanes are small and flexible, so they may bend but don't break frequently. Your dog or cat can even stick their head through them when they are down to look outside and not destroy them because they are made of aluminum.
Any motorized window treatments, such as window blinds or shades, are perfect for homes with dogs. You use a remote control or your smartphone to operate them, and they have no cords at all on them. Although, you may want to keep the remote control out of reach for your pets that like to chew things.
Other Safety Tips for Homes with Pets
Dogs, and sometimes cats, like to lick everything to get a feel for what the item is. They often lick your windows while sitting on the window frame and staring outside. Use all-natural window cleaning products so your dogs don't get sick from the chemicals in commercialized cleaners. A simple solution of vinegar and water works extremely well.
Carpeting isn't so easy to keep clean, with muddy paw prints and flying fur. Choose pet-friendly flooring that is easy to take care of. Vinyl plank flooring is a great choice because it's scratch-resistant, so you won't see claw marks from the zoomies, water-resistant for easy cleanup while potty training, and quite stylish.
Dogs and cats sleep numerous hours in a 24-hour period. It's nice for them to have a comfortable bed, so they know it's their special item just for them. This way, you don't need to share your recliner or couch with them if they love their bed. It also helps you rest easier at night without worrying about your pets or sharing your bed with them. Getting a pet bed with a washable cover is a good idea so it's easy to keep it clean for your pets.
Pet Friendly Blinds in St. Peters, MO
You have many different choices of window treatments that are all pet friendly, which will fit all of your needs and look beautiful too. Choose modern pet friendly blinds without cords hanging down, so your pets will be safe in your home. Call us at The Blind Broker of St. Louis for information on new window treatments for your pet lover's home. We offer FREE in-home consultations with an experienced designer, and we can't wait to meet you as fellow pet lovers!